Linked Episode: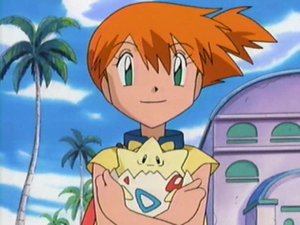 Link to Episode Guide
2010-01-03 カスミ登場!トゲピーとまぼろしの王国! 蜃気楼の彼方に!トゲピーの楽園! ポケましておめでとうお正月SP
2010-01-03 Kasumi tōjō! Togepi to maboroshi no ōkoku! / Shinkirō no kanata ni!! Togepi no rakuen! / Pokémashite omedetō o-shōgatsu SP
2010-01-03 Kasumi Enters! Togepi and the Kingdom of Illusions! / To the Other Side of the Mirage! Togepi's Paradise! / Pokéy New Year Special
OP/ED List
Pokémon Sunday (Version 5)

No notes available for this episode.
Japanese Music:
Music Statistics:
Number of Assigned Tracks to the Japanese Original: 0
Number of Assigned Tracks to the English Dub: 0