The episode started with Robert being called over to the other side of the set to do small tasks for Golgo, Red and Shoko only to be turned away just as they got there. Robert's desks are on a raised platform and every time they had to set up and down to get over to the other side of the set. Professor Red then dropped a pen he was using on the floor and asks Robert to get it for him. Just as Akiyama was about to pick up the pen, Red manages to stretch enough to pick it up himself. This gets Akiyama mad and tells them off for making them have to worry about the raised platform each time they were asked to do a task.
Golgo introduces this weeks rerun theme which is "The feeling of trust towards another is important!" (相手を信じる気持ちが大事!). Professor Red then does the "Pokémon Library" call as the International group girls were not around for the opening segment. This weeks rerun episode was
Enter the Zenigame Squad! (ゼニガメぐんだんとうじょう!)
from the
original series
.
After the rerun episode, Professor Red informs Robert that steps have been added beside the raised platform to make it easier for them to access their desks and get down. The International group girls then show up with a life size cardboard cutout of the
President of Pokémon Enterprises
. Hana greets it by saying "Pokémorning!" and a recorded voice of the president replies "Pokémorning!". Maria then hands Misaki a Pokédoll of
Musharna (ムシャーナ)
and the president responded by saying in his affectionate voice "Musharna!" (ムシャーナ!). The staff are all amazed how life like the cardboard cutout seems and Akiyama points out that it even has a stain on the tie.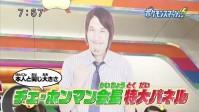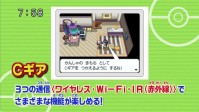 Click on images for higher resolution
Robert of the Adventure Division then head out to use the C-Gear to examine differences. The C-Gear is a new feature that was added in
Pokémon Black and White
that allows players to use the Wireless, Wi-Fi and InfraRed features to connect with friends and use various options like the Feeling Check. Yamamoto then explains that their goal for that day is to communicate with 100 people (今日1日で100人とすれ違い通信をするにとを目標にする).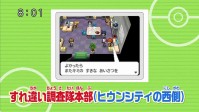 Click on images for higher resolution
Robert head off to the Tokyo Pokémon Center where Baba turns on his C-Gear. Quite a few people start showing up in the list and Baba suggests that they change their display name to "Pokémorning" (ポケモーニング). Baba says they should visit the man at the Expedition Headquarters in the western area of Hiun City. (すれ違い調査隊本部(ヒウンシティの西側). Instead Baba put Hiroshining (ヒロシーニング). Yamamoto's first name is Hiroshi. Robert then went around the Pokémon Center to get people to change their display names. They then returned back to their DS to see that their C-Gear was able to communicate with 100 people and they had reached their target.