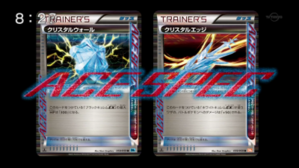 Linked Episode:
Link to Episode Guide
2012-07-22 進化! その時ポッチャマは!? / ポケカBW「フリーズボルト」「コールドフレア」で新カード「ACE SPEC」が登場 / ミジュマルカーに新展開 / 視聴者プレゼント!
2012-07-22 Shinka! Sono toki Pochama wa!? / PokeCa BW 'Freeze Bolt' 'Cold Flare' de shin card 'ACE SPEC' ga tōjō / Mijumaru Car ni shintenkai / Shichōsha present!
2012-07-22 Evolution! This time it's Pochama!? / New 'ACE SPEC' Cards Debut in the Pokémon Card series 'Freeze Bolt' and 'Cold Flare' / Further Development of the Mijumaru Car / Presents for the Viewers!
OP/ED List
Pokémon Smash (Variant 3)

Mitemite kotchitchi

No notes available for this episode.
Japanese Music:
Music Statistics:
Number of Assigned Tracks to the Japanese Original: 0
Number of Assigned Tracks to the English Dub: 0