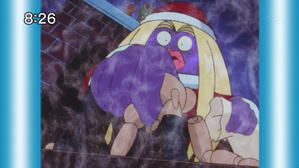 Available On:
2012-12-23 ルージュラのクリスマス / 「メダルおやじゴルゴが行く!」第3弾、ものスゴい特技を持つ子どもたちが登場 / ポケモンバトルは秋山隊員、秘密の作戦がある!?
2012-12-23 Rougela no Christmas / 'Medal oyaji Golgo ga iku!' dai3dan, monosugoi tokugi wo motsu kodomo-tachi ga tōjō / Pokémon battle wa Akiyama-taiin, himitsu no sakusen ga aru!?
2012-12-23 Rougela's Christmas / 'Mr. Medal Golgo Sets Out' Part 3, Where We Meet Children With Amazing Specialties / Group Member Akiyama Takes the Stage in the Pokémon Battle, Utilizing a Secret Strategy!?