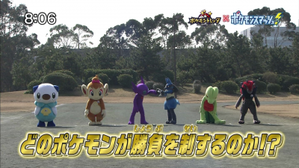 Linked Episode: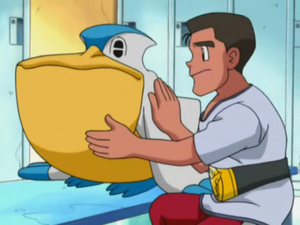 Link to Episode Guide
2013-03-31 史上最強のペリッパー現る!! / ポケモントレッタ第4弾「ゲノセクトを目撃せよ!」最新情報、トレッタとポケスマでコラボ企画!? / 「ポケモンスクランブルU」を体験!
2013-03-31 Shijō saikyō no Pelipper arawaru!! / Pokémon Tretta dai4dan 'Genesect wo mokugeki se yo!' Saishin jōhō, Tretta to PokéSma de collabo kikaku!? / 'Pokémon Scramble U' wo taiken!
2013-03-31 The Strongest Pelipper in History Shows Up!! / The Latest News on Pokémon Tretta Set 4, 'Be Witness to Genesect!', and a Collaborative Project Between Tretta and PokéSma!? / Testing Out 'Pokémon Scramble U'!
OP/ED List
Pokémon Smash (Variant 3)

No notes available for this episode.
Japanese Music:
Music Statistics:
Number of Assigned Tracks to the Japanese Original: 0
Number of Assigned Tracks to the English Dub: 0