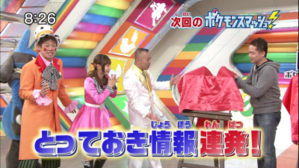 Available On:
2013-05-19 はぐれポケモン・ヒトカゲ / 「ポケモンXY」大特集、増田さんが驚きの最新情報を発表! / 15周年を迎えるポケセンとのコラボ企画が実現!? / 映画最新情報!
2013-05-19 Hagure Pokémon Hitokage / 'Pokémon XY' daitokushū, Masuda-san ga odoroki no saishin jōhō wo happyō! / 15shūnen wo mukaeru PokéCen to no collabo kikaku ga jitsugen!? / Eiga saishin jōhō!
2013-05-19 Stray Pokémon Hitokage / A Special Report on 'Pokémon X & Y', Where Masuda Announces Surprising News! / A Collaboration Project with the Pokémon Center, Which will Soon Celebrate its 15th Anniversary, Comes to Fruition!? / The Latest Movie News!