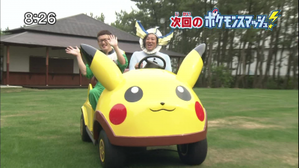 Available On:
2013-06-09 ほのおのポケモンだいレース! / イーブイたちに関係する「ふしぎな本」の情報を求めて宮崎へ / ポケモンWCSを目指すインターナショナル部の最新情報!
2013-06-09 Honoo no Pokémon dai race! / Eievui-tachi ni kankei suru 'fushigi na hon' no jōhō wo motomete Miyazaki e / Pokémon WCS wo mezasu International-bu no saishin jōhō!
2013-06-09 The Blazing Pokémon Race! / To Miyazaki in Search of Info on the 'Mysterious Book' Related to Eievui and its Evolutions / The Latest News on the International Division's Attempt on Reaching the Pokémon WCS!