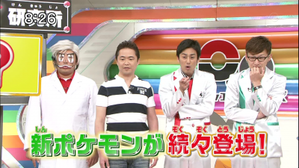 Available On:
2013-06-16 ピカチュウのもり / ポケモンXY特集・今回も増田さんが登場! / しょこたん部長が映画の特別前売券で貰える「ミュウツー」で山本隊員とバトル!
2013-06-16 Pikachu no mori / Pokémon XY tokushū - konkai mo Masuda-san ga tōjō! / Shokotan-buchō ga eiga no tokubetsu maeuriken de moraeru 'Mewtwo' de Yamamoto-taiin to battle!
2013-06-16 The Pikachu Forest / Pokémon X/Y Special - Masuda Visits This Time as Well! / Director Shoko-tan Battles Group Member Yamamoto with the Mewtwo Received with the Special Pre-order Ticket!