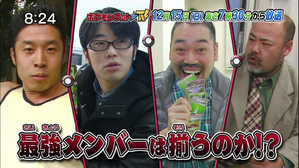 Available On:
2013-12-15 かくれざとのフシギダネ / ドランクドラゴン・鈴木拓の持ち込み企画「ポケモンカードゲーム最強軍団を作ろう」 / 来年のポケモン映画のスクープ!
2013-12-15 Kakurezato no Fushigidane/ Drunk Dragon Suzuki Taku no mochikomi kikaku 'Pokémon Card Game saikyō gundan wo tsukurō' / Rainen no Pokémon eiga no scoop!
2013-12-15 Fushigidane of the Hidden Village / Taku Suzuki from Drunk Dragon Introduces his 'Let's Create the Ultimate Pokémon Card Game Corps' Project! / A Scoop on Next Year's Pokémon Movie!