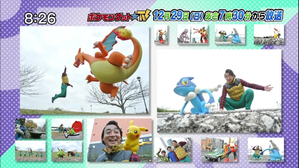 Linked Episode: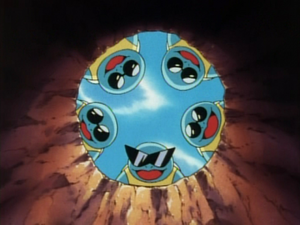 Link to Episode Guide
2013-12-29 ゼニガメぐんだんとうじょう! / 「モンコレ」を使った新企画に芸人・ジャングルポケットが登場 / ポケテレチャレンジに新ゲーム「絵で見て連想!ポケカキ!」登場!
2013-12-29 Zenigame-gundan tōjō! / 'Moncolle' wo tsukatta shinkikaku ni geinin Jungle Pocket ga tōjō / PokéTele Challenge ni shin game 'E de mite rensō! Pokékaki!' tōjō!
2013-12-29 Enter the Zenigame Squad! / Comedians Jungle Pocket Take the Stage in a New Segment Centered Around 'Moncolle' / The New Game 'What Does This Picture Remind You Of? PokéDrawing!' Premiers in the PokéTV Challenge!
OP/ED List
ポケダンシング☆XY

No notes available for this episode.
To celebrate TV Tokyo's 50th Anniversary, a special eye catch aired at the beginning of the episode that featured Pikachu and Chespin, Fennekin and Froakie.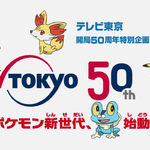 Japanese Music:
Music Statistics:
Number of Assigned Tracks to the Japanese Original: 0
Number of Assigned Tracks to the English Dub: 0