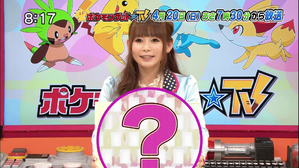 Linked Episode:
Link to Episode Guide
2014-04-20 スリーパーとポケモンがえり!? / ロビン率いるポケテレチームとJリーグ選手がサッカーバトル!? / ポケモン映画の最新情報!
2014-04-20 Sleeper to Pokémongaeri!? / Robin hikiiru PokéTele Team to J-League senshu ga soccer battle!? / Pokémon eiga no saishin jōhō!
2014-04-20 Sleeper and Pokémon Regression!? / A Soccer Battle between the PokéTV Team, Led by Robin, and J-League Players!? / The Latest Pokémon Movie News!
OP/ED List
Pokémon Get TV

No notes available for this episode.
Japanese Music:
Music Statistics:
Number of Assigned Tracks to the Japanese Original: 0
Number of Assigned Tracks to the English Dub: 0