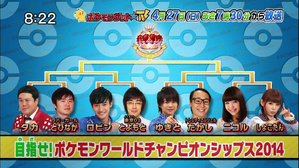 Linked Episode: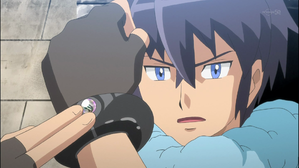 Link to Episode Guide
Available On:
Titles
ポケットモンスターXY特別編 「最強メガシンカ ~Act I(アクトワン)~」 / 「ポケモンWCS2014」に挑戦するポケテレ代表メンバーを決定するためメンバーとゲストでポケモンバトル!
Pocket Monsters XY tokubetsu-hen 'saikyō mega shinka ~Act I~' / 'Pokémon WCS 2014' ni chōsen suru PokéTele daihyō member wo kettei suru tame member to guest de Pokémon battle!
Pocket Monsters XY Special 'The Strongest Mega Evolution ~Act I~' / A Battle Between the Hosts and the Guests to Determine who Gets to Go to the 'Pokémon WCS 2014' as PokéTV Representatives!
Airdates
OP/ED List
Pokémon Get TV

No notes available for this episode.
Japanese Music:
Music Statistics:
Number of Assigned Tracks to the Japanese Original: 0
Number of Assigned Tracks to the English Dub: 0