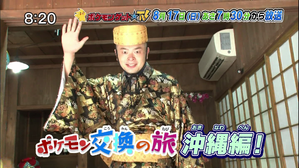 Linked Episode:
Link to Episode Guide
Titles
トゲピーはだれのもの!? / 第13回(リニューアル第5回)「ポケモンずかん完成の旅」ついに沖縄にやってきたあばれる君、目標達成なるか!?
Togepi wa dare no mono!? / Dai13kai (renewal dai5kai) 'Pokémon zukan kansei no tabi' tsui ni Okinawa ni yattekita Abareru-kun, mokuhyō tassei naru ka!?
Whose is Togepi!? / In the 13th Installment (and 5th Renewal Installment) of the 'Pokémon Zukan Completion Journey', Abareru-kun Finally Goes to Okinawa! Will He Reach his Target There!?
Airdates
OP/ED List
Pokémon Get TV

No notes available for this episode.
Japanese Music:
Music Statistics:
Number of Assigned Tracks to the Japanese Original: 0
Number of Assigned Tracks to the English Dub: 0