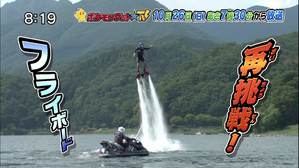 Available On:
2014-10-26 ロケット団! みだれひっかきでサヨウナラ!! / 第15回「ポケモンずかん完成の旅」今回は山梨県、あばれる君が空を舞うあの指令が再び!? / 伝説のポケモンに関するORAS情報!
2014-10-26 Rocket-dan! Midare hikkaki de sayōnara!! / Dai15kai 'Pokémon Zukan kansei no tabi' konkai wa Yamanashi-ken, Abareru-kun ga sora wo mau ano shirei ga futatabi!? / Densetsu no Pokémon ni kansuru ORAS jōhō!
2014-10-26 Rocket Gang! Goodbye with Fury Swipes!! / In the 15th Installment of the 'Pokémon Zukan Completion Journey', Abareru-kun Goes to Yamanashi, Where He is Once Again Ordered to Soar Through the Sky!? / ORAS Information Centered Around Legendary Pokémon!