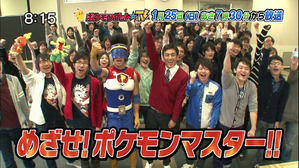 Available On:
2015-01-25 歌う! ポケモンからくり屋敷!! / ロバートの山本博がMCの「めざせ! ポケモンマスター 大学対抗編!」をオンエア、大学生たちによるポケモンクイズ大会!
2015-01-25 Utau! Pokémon karakuri yashiki!! / Robert no Yamamoto Hiroshi ga MC no 'Mezase! Pokémon Master daigaku taikō-hen!' wo on air, daigakusei-tachi ni yoru Pokémon quiz taikai!
2015-01-25 Sing! The Pokémon Trick House!! / Hiroshi Yamamoto from Robert Hosts 'Aim to Become a Pokémon Master - Intercollegiate Edition', a Pokémon Quiz Tournament for College Students!