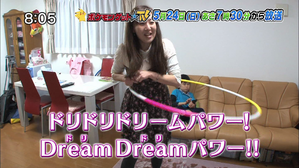 Titles
ニンフィアVSケロマツ! 幼稚園は大さわぎ!! / 「家族で宿題! ポケテレミッション」フラフープしながらクイズに挑戦 / ポケテレチャレンジに新ゲーム「このナノ。なんなの?」登場!
Nymphia VS Keromatsu! Yōchien wa oosawagi!! / 'Kazoku de shukudai! PokéTele Mission' hula hoop shinagara quiz ni chōsen / PokéTele Challenge ni shin game 'Kono nano. Nan na no?' tōjō!
Nymphia VS Keromatsu! Panic in Kindergarten!! / In 'Homework for the Entire Family! PokéTV Mission', the Challenge is to Answer a Quiz While Using a Hula Hoop / The New Game 'Now What is This Nano Now?' Debuts in PokéTV Challenge!
Airdates
No notes available for this episode.
Japanese Music:
Music Statistics:
Number of Assigned Tracks to the Japanese Original: 0
Number of Assigned Tracks to the English Dub: 0