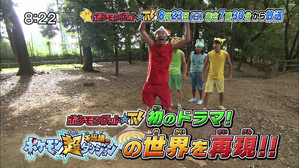 2015-08-23 ショウヨウジム戦! ピカチュウ対チゴラス!! /「ポケモン超不思議のダンジョン」ロビンとロバートがポケテレ初のドラマを作ってゲームを紹介! / 視聴者バトルはトシP!
2015-08-23 Shoyo Gym sen! Pikachu tai Chigoras!! / 'Pokémon Chō Fushigi no Dungeon' Robin to Robert ga PokéTele hatsu no drama wo tsukutte game wo shōkai! / Shichōsha battle wa Toshi-P!
2015-08-23 The Shoyo Gym Match! Pikachu VS Chigoras!! / Robin and Robert Create PokéTV's First TV Drama to Present the Game 'Pokémon Super Mystery Dungeon'! / The Television Viewer Battle is Against Producer Toshi!
No notes available for this episode.
Japanese Music:
Music Statistics:
Number of Assigned Tracks to the Japanese Original: 0
Number of Assigned Tracks to the English Dub: 0