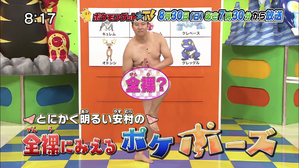 Available On:
2015-08-30 ペロッパフとペロリーム!! 甘い戦いはあまくない!? / 「ポケテレ自由研究」トレンディエンジェルが体にまつわる自由研究に挑戦! / 第3回「全裸に見えるポケポーズ」!
2015-08-30 Peroppuff to Peroream!! Amai tatakai wa amakunai!? / 'PokéTele jiyu kenkyū' Trendy Angel ga karada ni matsuwaru jiyu kenkyū ni chōsen! / Dai3kai 'Zenra ni mieru PokéPose'!
2015-08-30 Peroppuff and Peroream!! A Sweet Fight Gets Anything But Sweet!? / In 'PokéTV Independent Research Project', Trendy Angel Perform Physical Experiments! / The Third Installment of 'Seemingly Stark Naked Poké-Poses'!