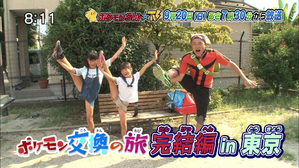 Available On:
Titles
ジャジャーン! ニセサトシ現る!! / 「あばれる君のポケモン交換の旅 最終回・東京編」ホウエン図鑑完成まで残り9匹、図鑑は完成するのか!?
Jajaan! Nise Satoshi arawaru!! / 'Abareru-kun no Pokémon kōkan no tabi saishūkai Tōkyō-hen' Houen zukan kansei made nokori 9biki, zukan wa kansei suru no ka!?
Ta-da! A Fake Satoshi Appears!! / In 'The Final Installment of Abareru-kun's Pokémon Trade Journey: The Tokyo Edition', Only 9 Pokémon Remain Until the Houen Zukan is Complete, Will Abareru-kun Manage to Complete it!?
Airdates
No notes available for this episode.
Japanese Music:
Music Statistics:
Number of Assigned Tracks to the Japanese Original: 0
Number of Assigned Tracks to the English Dub: 0