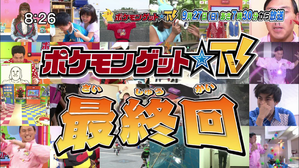 Available On:
Titles
ポケットモンスターXY特別編「最強メガシンカ ~Act III~」 / ゆきとディレクターが「今日のイチオシーン」をスタジオで初披露! / メンバーが選んだポケテレ名場面!
Pocket Monsters XY tokubetsu-hen - Saikyō Megashinka ~Act III~ / Yukito-director ga 'kyō no ichioscene' wo studio de hatsuhirō! / Member ga eranda PokéTele meibamen!
Pocket Monsters XY Special: The Strongest Mega Evolution ~Act III~ / For the First Time, Director Yukito Hosts the 'Today's Recommended Scene' Segment in the Studio! / Noteworthy Scenes from PokéTV as Selected by the Hosts!
Airdates
No notes available for this episode.
Japanese Music:
Music Statistics:
Number of Assigned Tracks to the Japanese Original: 0
Number of Assigned Tracks to the English Dub: 0