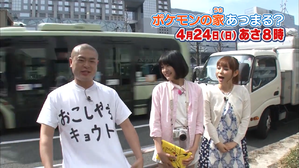 2016-04-24 ヒャダインから送られてくる写真をヒントに京都のポケモンポイントを回る大冒険/映画出演を目指すあばれる君が湯山監督に直談判!
2016-04-24 Hyadain kara okurarete kuru shashin wo hint ni Kyōto no Pokémon point wo mawaru daibōken/ Eiga shutsuen wo mezasu Abareru-kun ga Yuyama-kantoku ni jikadanpan!
2016-04-24 An Adventure Visiting Pokémon Spots in Kyoto Using Photos Received from Hyadain as Hints / Wanting to be in the Movie, Abareru-kun Goes Directly to Director Yuyama!
No notes available for this episode.
Japanese Music:
Music Statistics:
Number of Assigned Tracks to the Japanese Original: 0
Number of Assigned Tracks to the English Dub: 0