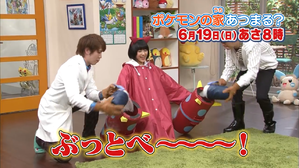 Available On:
Titles
武井壮さん・小島よしおさんと一緒にポケモンサイエンス、スチームバーストを再現! /「ポケモン総選挙720」結果発表!
Takei Sō-san Kojima Yoshio-san to issho ni Pokémon Science, Steam Burst wo saigen! / 'Pokémon sōsenkyo 720' kekka happyō!
Pokémon Science with So Takei and Yoshio Kojima, Replicating Steam Eruption / Announcing the Results of the 'Pokémon Elections 720'
Airdates
No notes available for this episode.
Japanese Music:
Music Statistics:
Number of Assigned Tracks to the Japanese Original: 0
Number of Assigned Tracks to the English Dub: 0