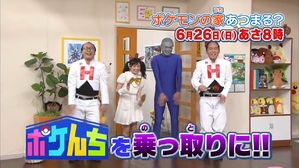 Available On:
Titles
またもポケんちをのっとりに来たトレンディエンジェルと対決! / ポケんちにサトシゲッコウガが大量発生!?
Matamo Pokénchi wo nottori ni kita Trendy Angel to taiketsu! / Pokénchi ni Satoshi Gekkouga ga tairyō hassei!?
A Showdown with Trendy Angel, Who Have Once Again Come to Take Over Pokénchi! / A Massive Outbreak of Satoshi Gekkouga at Pokénchi!?
Airdates
No notes available for this episode.
Japanese Music:
Music Statistics:
Number of Assigned Tracks to the Japanese Original: 0
Number of Assigned Tracks to the English Dub: 0