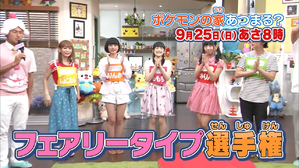 Titles
フェアリータイプ好きのトップを決めるフェアリータイプ選手権で春日が大暴走!? / りんかちゃんのライバルは新人アイドル!
Fairy Type-suki no top wo kimeru Fairy Type Senshuken de Kasuga ga daibōsō! ? / Rinka-chan no rival wa shinjin idol!
Kasuga Runs Wild in the Fairy Type Championships Meant to Determine The Biggest Fairy Type Fan!? / Rinka-chan's Rival is a Rookie Idol!
Airdates
No notes available for this episode.
Japanese Music:
Music Statistics:
Number of Assigned Tracks to the Japanese Original: 0
Number of Assigned Tracks to the English Dub: 0