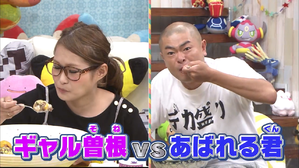 Available On:
Titles
ポケモンクッキングであばれる君と大食い女王・ギャル曽根さんが大食い対決! / ポケモンバトルではロバート山本の様子が…?
Pokémon Cooking de Abareru-kun to ōkui joō Gal Sone-san ga ōkui taiketsu! / Pokémon battle de wa Robert Yamamoto no yōsu ga…?
During Pokémon Cooking, Abareru-kun and Gluttonous Queen Gal Sone Have an Eating Contest! / During the Pokémon Battle, Yamamoto from Robert Starts to...?
Airdates
No notes available for this episode.
Japanese Music:
Music Statistics:
Number of Assigned Tracks to the Japanese Original: 0
Number of Assigned Tracks to the English Dub: 0