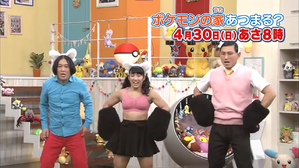 Available On:
Titles
キテルグマになったオードリー春日と風船割り等のゲームで対決! / あばれる君がポケだちとポケモンバトル!
Kiteruguma ni natta Audrey Kasuga to fūsenwari nado no game de taiketsu! / Abareru-kun ga Pokédachi to Pokémon battle!
A Showdown with Kasuga from Audrey, Who Has Turned into a Kiteruguma, in Games Such as Balloon Popping! / Abareru-kun has a Pokémon Battle Against a Pokénd!
Airdates
No notes available for this episode.
Japanese Music:
Music Statistics:
Number of Assigned Tracks to the Japanese Original: 0
Number of Assigned Tracks to the English Dub: 0