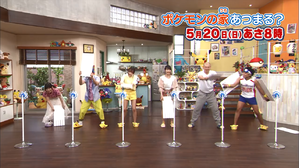 2018-05-20 ルギアになりきったサンシャイン池崎とみんなでキズナを深めるゲームに挑戦 / 変装したしょこたんがポケモンセンターに潜入!?
2018-05-20 Lugia ni narikitta Sunshine Ikezaki to minna de kizuna wo fukameru game ni chōsen / Hensō shita Shokotan ga Pokémon Center ni senyū!?
2018-05-20 Everyone Plays Games That Will Strengthen Their Bonds Together with Sunshine Ikezaki, Who is Role Playing a Lugia / A Disguised Shokotan Infiltrates a Pokémon Center?!
No notes available for this episode.
Japanese Music:
Music Statistics:
Number of Assigned Tracks to the Japanese Original: 0
Number of Assigned Tracks to the English Dub: 0