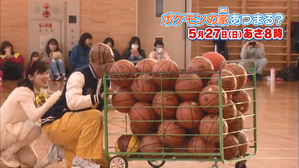 2018-05-27 あばれる君のポケモン交換旅、今回は福島県! / あばれる君の地元で懐かしいポケだちと再会? / バスケットボールに変装!?
2018-05-27 Abareru-kun no Pokémon kōkan tabi, konkai wa Fukushima-ken! / Abareru-kun no jimoto de natsukashī Pokédachi to saikai? / Basketball ni hensō!?
2018-05-27 Abareru-kun's Pokémon Trade Journey, This Installment in Which He Heads to Fukushima! / In His Hometown, Abareru-kun Reunites with a Pokénd He Hasn't Seen in a Long Time? / A Basketball Disguise?!
No notes available for this episode.
Japanese Music:
Music Statistics:
Number of Assigned Tracks to the Japanese Original: 0
Number of Assigned Tracks to the English Dub: 0