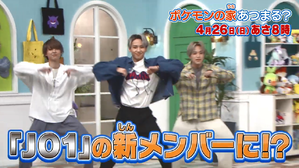 2020-04-26 JO1から川尻蓮、大平祥生、白岩瑠姫が登場!/ かくとうタイプ?のダンスにみんなでチャレンジ!
2020-04-26 JO 1 kara Kawashiri Ren, Ōhira Shōsei, Shiraiwa Ruki ga tōjō! / Kakutō type? no dance ni minna de challenge!
2020-04-26 Ren Kawashiri, Shosei Ohira and Ruki Shiroiwa from JO1 Visit! / Everybody Attempts Dancing a... Fighting Type Dance?
OP/ED List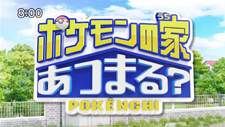 Gathering in the Pokémon House?

No notes available for this episode.
Japanese Music:
Music Statistics:
Number of Assigned Tracks to the Japanese Original: 0
Number of Assigned Tracks to the English Dub: 0