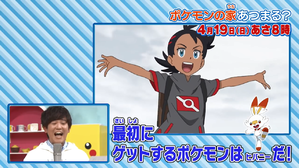 2020-04-19 オードリー春日、王林と一緒にみんなでアフレコに挑戦!/ ゴウの声を担当する山下大輝の生アフレコ姿に一同感動!/ 春日からは重大発表!?
2020-04-19 Audrey Kasuga, Ourin to issho ni minna de afreco ni chōsen! / Gō no koe wo tantō suru Yamashita Daiki no namaaffreco sugata ni ichidō kandō! / Kasuga kara wa jūdai happyō!?
2020-04-19 The Residents Join Kasuga from Audrey and Ourin as they Attempt Dubbing! / Everyone Gets Deeply Moved from Seeing Go's Voice Actor Daiki Yamashita Dub the Character in Person! / A Major Announcement from Kasuga?!
OP/ED List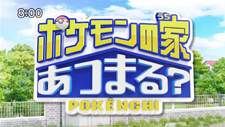 Gathering in the Pokémon House?

No notes available for this episode.
Japanese Music:
Music Statistics:
Number of Assigned Tracks to the Japanese Original: 0
Number of Assigned Tracks to the English Dub: 0