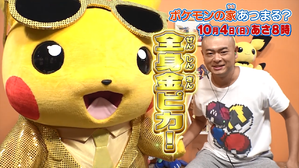 Available On:
Titles
金ピカピカチュウ登場!/ アニメ「ポケットモンスター」オープニング曲「1・2・3」に合わせてゲーム! / サンシャイン池崎考案一撃わざ限定バトル!
Kinpika Pikachu tōjō! / Anime "Pocket Monsters" opening-kyoku "1 2 3" ni awasete game! / Sunshine Ikezaki-kōan ichigekiwaza gentei battle!
The Glittering Gold Pikachu Appears!/ A Game Set to the "Pocket Monsters" Anime Opening Theme "1, 2, 3"! / A OHKO Move-only Battle Invented by Sunshine Ikezaki!
Airdates
OP/ED List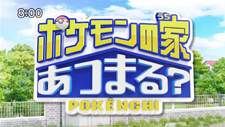 Gathering in the Pokémon House?

No notes available for this episode.
Japanese Music:
Music Statistics:
Number of Assigned Tracks to the Japanese Original: 0
Number of Assigned Tracks to the English Dub: 0