2021-10-24 サイトウ(=LOVE齊藤なぎさ)のライバルは藤原竜也? / かくとうタイプのジムリーダー・サイトウの手持ちポケモンをテーマにした2つのゲームに挑戦! / みんなでアニポケの新しいエンディング曲「バツグンタイプ」をレッツダンス!
2021-10-24 Saito (=LOVE Saitō Nagisa) no rival wa Fujiwara Tatsuya? / Kakutō type no Gym Leader Saito no temochi Pokémon wo thema ni shita futatsu no game ni chōsen! / Minna de AniPoké no atarashii ending-kyoku "Batsugun Type" wo let's dance!
2021-10-24 The Rival of Saito (Nagisa Saito from =LOVE) is Tatsuya Fujiwara? / Attempting 2 Games Themed Around the Pokémon Used by Fighting Type Gym Leader Saito! / Let's Dance Together to the New Pokémon Anime Ending Theme "Supereffective Type"!
OP/ED List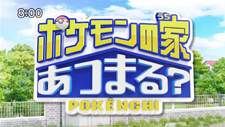 Gathering in the Pokémon House?

No notes available for this episode.
Japanese Music:
Music Statistics:
Number of Assigned Tracks to the Japanese Original: 0
Number of Assigned Tracks to the English Dub: 0