Available On:
Titles
アニメポケモン冬SP企画! / ニャースからポッチャマを守るため、住人みんなでサイレントゲームに挑戦!
Anime Pokémon fuyu SP kikaku! / Nyarth kara Pochama wo mamoru tame, jūnin minna de silent game ni chōsen!
A Pokémon Anime Winter Special Project / All the Residents Attempt a Silent Game to Protect Pochama from Nyarth!
Airdates
OP/ED List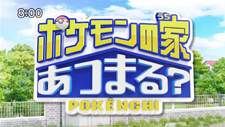 Gathering in the Pokémon House?

No notes available for this episode.
Japanese Music:
Music Statistics:
Number of Assigned Tracks to the Japanese Original: 0
Number of Assigned Tracks to the English Dub: 0