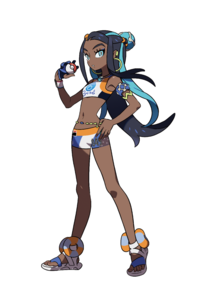 Press Release - June 11th, 2019

Nessa, A Water-type Gym Leader
Pokémon Gyms are found in stadiums throughout the Galar region and attract Trainers that are experts in specific types of Pokémon. To become Champion, players will need to defeat the top Trainer in each Pokémon Gym, also known as the Gym Leader. In Pokémon Sword and Pokémon Shield, Trainers will encounter Nessa, a Gym Leader who is an expert on Water-type Pokémon. Her calm and collected attitude hide a competitive spirit and indomitable will that becomes apparent when she overwhelms opponents in battle with powerful Water-type moves.