Pokémon Smash Episode 34,
Pochama Runs Away! / A Special Supporter Joins the Black-White Cheering Battle / Will Zebraika Win in Maria's First Pokémon Battle? (ポッチャマはぐれる! / 黒白おうえん合戦にスペシャルサポーターが登場 / ポケモンバトルはマリアが初バトル、ゼブライカで勝てるか?)
, aired on Sunday in Japan.
The episode started off with Golgo allowing Maria to do the weekly greeting gesture which she briefly thought about and ended up doing a full spin with a thumbs up at the end while saying 'PokéMoring!'. The rest of the cast joined in and mimicked her greeting.
Akiyama introduced this weeks rerun episode as part of the Pokémon Library and he also announces this weeks theme, Be aware of other people's feelings as their feelings are important! (相手を気づかう気持ちが大事!). This weeks Pokémon Library rerun episode was
Pochama Runs Away! (ポッチャマはぐれる!)
from the
Diamond and Pearl series
.
A full summary of that episode is available in the episode guide
. Professor Red said his go-to line 'OK! Pokémon Library!' to start the repeat episode.
After the Pokémon Library rerun episode, Akiyama introduced a 'Special Supporter' for Team Zekrom and the movie
Victini and the Dark Hero - Zekrom (ビクティニと黒き英雄ゼクロム)
. Gari-kun (ガリ君), the popular ice cream and Popsicle mascot showed up and Team Zekrom got 5 points added to their total score. The whole cast sang the popular catch song Gari Gari-kun(ガリガリ君 ガリガリ君 ガリガリ君). Realizing that Team Zekrom might have the advantage going on, Misaki used her idol skills on Gari-kun to see if he would be willing to support Team Reshiram and
Victini and the Light Hero - Reshiram (ビクティニと白き英雄レシラム)
. Hana and Maria all tried to help out but then Yamamoto and Baba objected and tried to tell Gari-kun not to listen to them and that he was their 'Special Supporter'.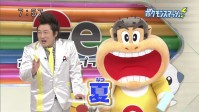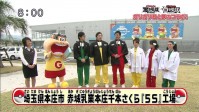 Click on images for higher resolution
The Adventure Division and the International Division arrived at Akagi Ice Factory 5S, Saitama Prefecture, Honjo City (埼玉県本庄市 赤城乳業本庄千本くら「5s」工場) where they met Gari-kun and Yuka Minowa, a representative for the company. Suddenly,
Bobby Ologun
appears and since Maria wasn't around the last time he was on the show, she wondered who he was and why he was there.
Everyone entered the factory and got dressed in clean suits and began their tour of the plant. They noticed that the sofa backs were shaped as flavored bars and that the floors were very clean an shiny. Then then checked out a machine that crushed large blocks of ice and mixed them. a 135kg block of ice is able to make 5000 flavored ice bars.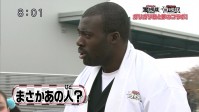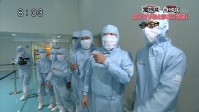 Click on images for higher resolution
They then had a Gari Gari-kun quiz. Below are the questions that were asked.
1
Is Gari Gari-kun's sibling... (ガリカリ君のきょうだいは?) A. Elder Brother (兄) B. Elder Sister (姉) C. Younger Brother (弟) D. Younger Sister (妹)

D. Younger Sister (妹)

Spoiler: Click to show!

2
Over 30 years, how many different flavors have there been? (30年で何種類の味が登場している?)

60

Spoiler: Click to show!
Maria got the first question right while Yamamoto got the second one right. They continued the tour and watched the Popsicles being made where they were frozen at -35C. Akiyama loaded some of the popsicle sticks into the machine. After their tour of the factory was complete, they announced there would be Movie 14 Gari Gari-kun treat.
The treat would be a Gari Gari-kun Choco Rich Popsicle and would go on sale on June 1st, 2011
.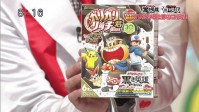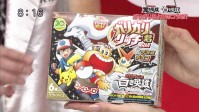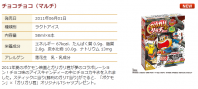 Click on images for higher resolution
Baba also showed that a few Popsicle sticks would have a special marking with a Victini which would give people a t-shirt as a prize.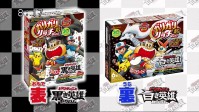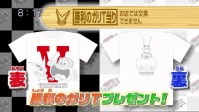 Click on images for higher resolution
In the Marketing Department segment, a Double Battle between 10 year old Moeto Niino(新野萌登) and Maria took place. This was Maria's first battle on the show but unfortunately she lost and had to trade her
Enbuoh (エンブオー)
for his
Kuitaran (クイタラン)
.
As a reminder for the upcoming CD release of
Can You Say the Pokémon? BW (ポケモン言えるかな? BW)
which will be released on June 22nd, 2011, they filmed various kids singing the song for the ending.
Characters
and
Pictures
from this episode have been added to the
episode guide
. You can also
comment and discuss
this episode on the forum. Also be sure to rate this and other episodes in the
episode guide
.