The Japanese Dream World expansion "Old Mansion" (古びた洋館) was announced in the Weekly Famitsu No. 1189 (週刊ファミ通 1189号) last week
and the official Pokémon website has now announced that the Spooky Manor expansion will also be available in other regions of the world starting on September 27th, 2011. Below is the press release.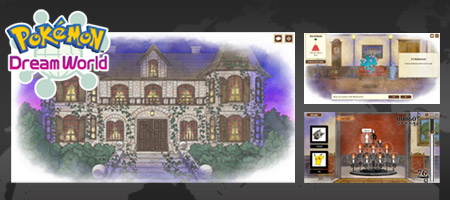 Press Release
Explore the Spooky Manor and discover many Pokémon at the Pokémon Global Link!
Starting September 27th, you can visit the Spooky Manor, an eerie old mansion filled with Pokémon! Fennel will show you the way to this new area of the Island of Dreams, where Ghost-type and Psychic-type Pokémon roam the halls. There's also a fun new minigame you can play that will let you befriend Pokémon you haven't met before in the Pokémon Dream World. Plus, you'll find Berries that haven't previously appeared on the Island of Dreams. After befriending Pokémon and collecting Berries, you can send them to your Pokémon Black Version or Pokémon White Version game when you use Game Sync!
You can also use these Berries to swap for brand-new Décor items to decorate your home. There's even a new house design that matches the look of the Spooky Manor!
All you need to check out the Spooky Manor is a copy of Pokémon Black Version or Pokémon White Version and a Pokémon Trainer Club account. Be sure to visit the new area when it opens its doors in the Pokémon Dream World on September 27th!
Source:
http://www.pokemon.com/us/news/pgl_spookymanor-2011-09-19/