During
Pokémon Smash 130 - Pochama Tries its Best!! / The International Division Starts Training for the 'Pokémon World Championships 2013'! / The 'Pokémon Anime Requests' Start! (ポッチャマがんばる!! / 「ポケモンワールドチャンピオンシップス2013」に向けてインターナショナル部が特訓を開始!/「ポケモンアニメリクエスト」スタート!)
Junichi Masuda revealed a new Pokémon but details such as its name, type and origin were not revealed. The official Pokémon website then updated with part of the in-game video showed on Smash and a few more hints.
Trailer Video
Source:
http://www.youtube.com/watch?v=vk_YC0MXJ-0
Official Site Updates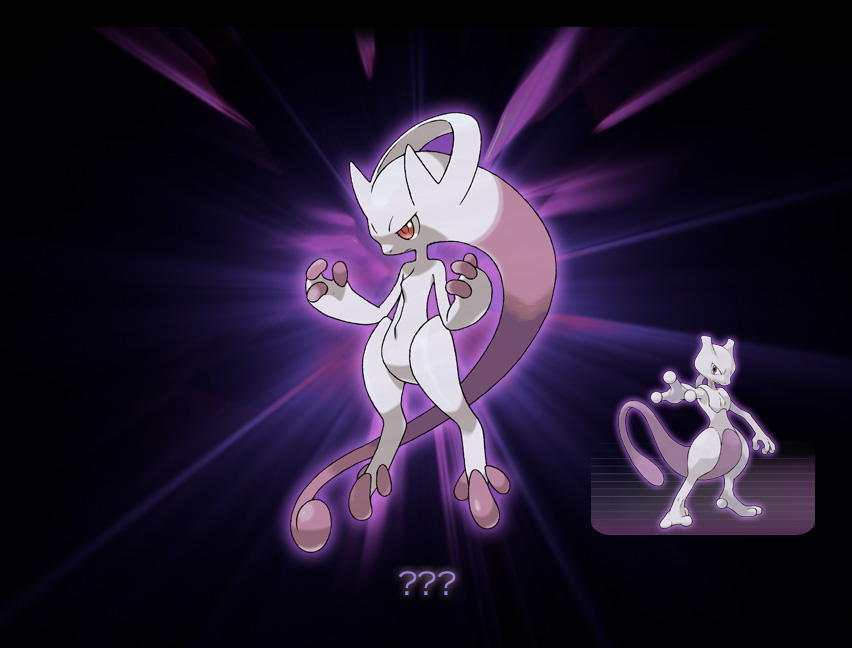 Source:
http://www.pokemon.com/pokemonxy/en-us
Press Kit
It's been more than a month since the reveal of Sylveon—the newest evolution of Eevee. Fans have debated which type this new Pokémon will be when it debuts in Pokémon X and Pokémon Y, launching worldwide in October. Today, the mysteries of the newest Pokémon titles continue to grow with the unveiling of a Pokémon that is strangely familiar to Legendary Pokémon Mewtwo! This special reveal was made just moments ago on the "Pokémon Smash" television show in Japan.
This new Pokémon shares many traits with Mewtwo and it's suspected that the newly discovered Pokémon has a connection with Mewtwo—a powerful Pokémon that debuted in Pokémon Red and Pokémon Blue.
What is this new Pokémon? How will you encounter it in Pokémon X and Pokémon Y? When will you know more? One thing is clear, your readers will certainly want to debate the meaning of this new Pokémon!
Pokémon Smash 130
To start off the show, a new opening was revealed.
The fourth opening to Pokémon Smash
features the narrator explaining the upcoming segments on the show in a small video box in the center of the screen. The Eeveelutions are shown at the bottom of the screen swaying back and forth. After he as completes the quick summary of the episode, an animated sequence featuring Lucario and Mijumaru is shown as they lift up the Smash logo into position before going onto the main show.
As requested by Smash in March of 2013, during the month of April 2013 a
new segment would debut called You Choose! Pokémon Anime Request! (キミが決める!ポケモンアニメリクエスト)
. Viewers were requested to select a Pokémon and then an anime Library episode that features that Pokémon would be shown during the Pokémon Library segment of the show. Viewers needed to send in a postcard with a brief message and their Pokémon selection into the show.
This weeks selection was from Hinako Iizuka (飯塚日奈子) who asked for
Pochama (ポッチャマ)
.
Pochama Tries its Best!! (ポッチャマがんばる!!)
from the
Diamond and Pearl series
was the selected episode. Professor Red said his go-to line 'OK! PokéRequ Go!' (OK! ポケリク GO!) to start the repeat episode.
After the Library episode, Shoko-tan reviewed all the currently the revealed Generation 6 Pokémon up to this point: Froakie, Chespin, Fennekin, Xerneas, Yveltal and Sylveon. The VTR featured Golgo and Red visiting Junichi Masuda at GameFreak to get an update for Pokémon X and Y. They brought with them a plate of Gomoku Ankake Pancakes (五目あんかけパンケーキ) which Shoko-tan made. Gomoku Ankake Pancake are pancakes with ankake sauce and five types of vegetables/meats. Realizing that it was Shoko-tan that made them, Masuda-san passed it up and asked Red to try it. Red tried it and it was quite obvious that he didn't like it but all he could say was that it was "Intense" (強烈). Just as Masuda was about to reveal the new Pokémon, they went to a commercial break.
They finally got him to reveal a new Pokémon. Back in the studio, Golgo and Red showed the rest of the members the new Pokémon and Shoko-tan nearly had a heart attack as Mewtwo is one of her favorite Pokémon. The new Pokémon is based off of Mewtwo but no other details were revealed.