The official Taiwanese Pokémon website at My-Cartoon has posted information about the upcoming distribution of Red Genesect in association with the theatrical release of 16th Pocket Monsters movie
Extremespeed Genesect: The Awakening of Mewtwo (神速の蓋諾賽克特 超夢覺醒)
and its short
Pikachu and its Eievui Friends (皮卡丘與伊布好朋友)
which will debut in theaters on August 16th, 2013. Those that bring their ticket stub for the movie to 1 of the 7 participating Funbox locations from August 16th, 2013 until September 15th, 2013 can receive a level 100 Red Genesect. Tickets cost $420TWD for the FamiPort family pack or $210TWD for a single admission.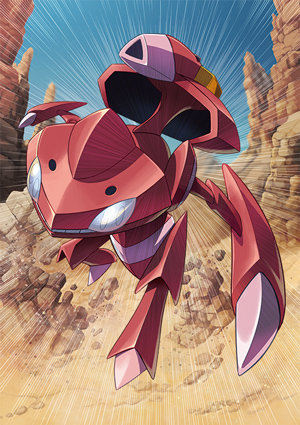 The distribution locations are the same for the
Taiwanese Pre-order Mewtwo
. Players need to bring their copy of Pocket Monsters Black, White, Black 2 or White 2 with their Nintendo DS in order to receive the Mewtwo.
Distribution Locations
Living Mall Branch - 5F., No.138, Sec. 4, Bade Rd., Songshan Dist., Taipei City (京華城分店 台北市八德路4段138號5樓)
Mega City Branch - 5F., No.28, Xinzhan Rd., Banqiao Dist., New Taipei City (板橋大遠百分店 新北市板橋區新站路28號5樓)
Big City Branch - 5F., No.229, Zhongyang Rd., East Dist., Hsinchu City (新竹巨城購物中心分店 新竹市中央路229號5樓)
Top City Branch - 5F., No.105, Sec. 2, Taichung Port Rd., Xitun Dist., Taichung City (台中大遠百分店 台中市中港路二段105號5樓)
Kaohsiung Far Eastern Department Store Branch - 6F., No.21, Sanduo 4th Rd., Lingya Dist., Kaohsiung City (高雄大遠百分店 高雄市三多四路21號6樓)
Shinkong Mitsukoshi A8 Branch - 5F., No.12, Songgao Rd., Xinyi Dist., Taipei City (新光三越A8分店 台北市松高路12號5樓)
Pacific Mall Shuang-ho Branch - B1, No.238, Sec. 1, Zhongshan Rd., Yonghe Dist., New Taipei City (雙和太平洋分店 新北市永和區中山路1段238號B1)
Press Release
由群英社代理神奇寶貝最新電影版《神速の蓋諾賽克特 超夢覺醒》以及短篇《皮卡丘與伊布☆好朋友》將於8月16日全台上映,而第二波送禮活動─夢幻神奇寶貝─不同顏色的『蓋諾賽克特』也將於同一時間開跑囉!
8月16日起至9月15日止,只要進電影院觀賞神奇寶貝最新電影版《神速の蓋諾賽克特 超夢覺醒》,並憑電影票根前往FUNBOX麗嬰國際玩具全國指定分店,即可獲得平常在『ポケットモンスターブラック・ホワイト・ブラック2・ホワイト2(參考翻譯:神奇寶貝 黑版/白版・黑版2/白版2)』中碰不到的夢幻神奇寶貝─不同顏色的『蓋諾賽克特』。和第一波送禮活動的超夢一樣,是只有參加活動才能獲得的超稀有神奇寶貝喔!好好把握黃金時間,和最帥氣、最強的不同顏色的『蓋諾賽克特』一起度過暑假吧!
夢幻神奇寶貝『蓋諾賽克特』原本是活在三億年前的古生代蟲類型神奇寶貝,經過電漿團改造後誕生於現代。這次送給大家的不同顏色的『蓋諾賽克特』,與電影中登場的「赤紅蓋諾賽克特」相同,是十分少見的不同顏色的神奇寶貝。牠的攻擊力跟特別攻擊威力都很高,還有「神速」等平常學不到的技能,無論攻擊還是領敏度都是頂級水準!而這也是台灣第一次贈送不同顏色的夢幻神奇寶貝喔!
此外,內含LV.100『超夢』交換券的電影預售票也現正於全家FamiPort、博客來售票網、My Cartoon購物網、安利美特西門店/光華店好評發售中!使用這張電影預售票上的交換券,即可於7月13日(六)~8月15日(四)期間內,在全國FUNBOX指定分店獲得可在任天堂DS遊戲『ポケットモンスターブラック・ホワイト・ブラック2・ホワイト2(參考翻譯:神奇寶貝 黑版/白版・黑版2/白版2)』中使用的LV.100『超夢』,機會難得千萬別錯過!
Source:
http://www.my-cartoon.com.tw/index.php?option=com_content&task=view&id=3423&Itemid=1