The official Japanese Pokémon Website has revealed the
Famitsu Challenge (ファミ通チャレンジ)
online tournament for the Japanese versions of
Pokémon X and Y
. Registration is done via the Pokémon Global Link, and requires a Pokémon Daisuki Club membership account. All participants will receive a special "Famitsu Challenger" medal on their Global Link medal list.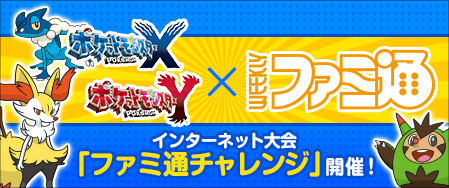 Region:
Japan
Registration Period:
April 10th, 2014 until April 18th, 2014 at 8:59
Tournament Period:
May 18th, 2014 until May 21st, 2014 at 8:59
Max number of participants:
50 000
Player divisions:
Junior (players born in 2003 or later), Senior (players born between 2002 and 1999) and Master (players born in 1998 or earlier)
Battle Type:
Double Battle
Pokémon Restrictions:
Pokémon caught or hatched from eggs in Kalos
Banned Pokémon:
All Pokémon not found in the Central Kalos, Coastal Kalos or Mountain Kalos Pokédexes, as well as Mewtwo, Xerneas, Yveltal, or Zygarde.
Entry Gift:
Famitsu Challenger Medal
UPDATE: A Holo Caster message was sent out informing of this tournament.
It can be found on our Holo Caster page alongside all other such messages.
Source:
http://www.pokemon.co.jp/info/2014/03/140320_e01.html