The Pokémon website has revealed the
2014 April Friendly
online tournament for
Pokémon X and Y
. Below are the details.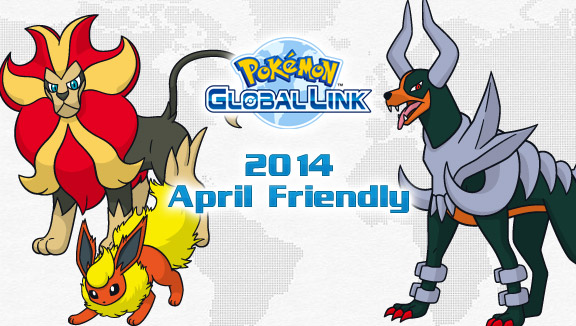 Do you have a Pokémon party that you can't wait to battle with against top Trainers? Join the 2014 April Friendly, an Online Competition featuring players from around the world! The 2014 April Friendly features Single Battles, and every Pokémon in the Kalos Pokédex is eligible—even Legendary Pokémon such as Xerneas and Yveltal! All the Pokémon on your party will be set to Level 50 automatically for the duration of the battle—this goes for Pokémon above and below level 50.
Tournament Details
Region:
North America and Europe
Registration Period:
Thursday, April 17, 2014 at 00:00:00 through Thursday, April 24, 2014 at 23:59:00 UTC
Tournament Period:
Friday, April 25, 2014 at 00:00:00 through Monday, April 28, 2014 at 23:59:00 UTC
Ranking Results Announcement:
Thursday, May 1, 2014 at 00:00:00 UTC
Max number of participants:
50 000
Player divisions:
Junior/Senior Division: Born 1999 or later.
Masters Division: Born 1998 or earlier.
Battle Type:
Single Battle
Pokémon Restrictions:
Players may use only Pokémon found in the Kalos Pokédexes of Pokémon X or Pokémon Y. Players cannot use Pokémon that were brought to Pokémon X or Pokémon Y using the Nintendo 3DS downloadable software Poké Transporter.
Banned Pokémon:
All Pokémon not found in the Central Kalos, Coastal Kalos or Mountain Kalos Pokédexes.
Source:
http://www.pokemon.com/us/pgl/2014-april-friendly/