The official Pokémon website has revealed the dates and locations for the
Pokémon Spring Regional Championships
. Tournaments will be held in cities across the United States and Canada in April of 2014. The Regional Championships is part of a title-event series where players compete for the title of Regional Champion!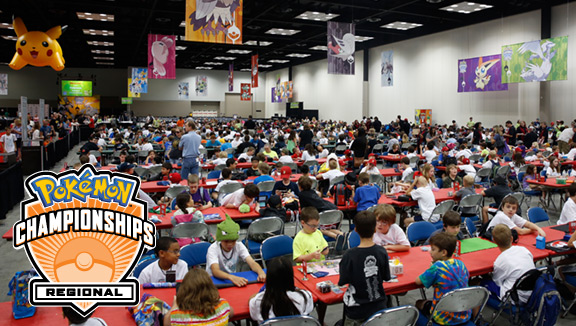 Players that do well at the Regional Championships can get a lot of Championship Points as well as a chance to earn Travel Awards to Nationals. Players might even get an invitation to the 2014 Pokémon World Championships in Washington, DC. Top finishers get booster packs, trophies, and a huge step toward earning a National Championships Travel Award or Stipend from a pool of nearly $200,000 in travel allowances!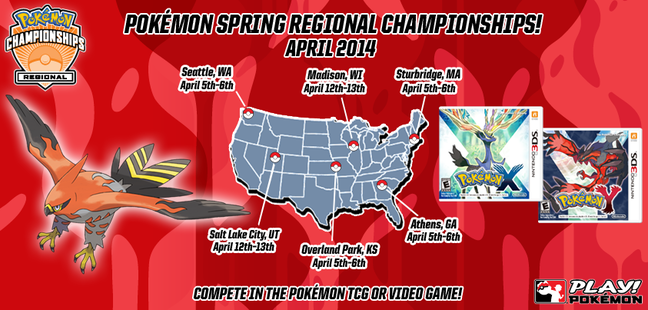 Locations
April 5–6, 2014 - Sturbridge Host Hotel & Conference Center - 366 Main Street - Sturbridge, MA 01566
April 5–6, 2014 - The Classic Center - 300 N Thomas Street - Athens, GA 30601
April 5–6, 2014 - Overland Park International Trade Center - 6800 W 115th Street - Overland Park, KS 66211
April 5–6, 2014 - Washington State Convention Center - 800 Convention Place - Seattle, WA 98101
April 12–13, 2014 - Utah State Fairpark—Grand Building - 155 North 1000 West - Salt Lake City, UT 84116
April 12–13, 2014 - Monona Terrace Convention Center - 1 John Nolen Drive - Madison, WI 53703
April 26th, 2014 - (TCG Only) - Bingemans FunworX Indoor Playland - 425 Bingemans Centre Drive - Kitchener, ON N2B 3X7 Canada
Press Release
Prepare for the 2014 Spring Regional Championships! Participate in the latest round of Pokémon TCG and Video Game Regional Championships.
Want to test your skills against some of the best players in North America? Compete in the 2014 Spring Regional Championships! With expert play and a little luck, you could be one of the Pokémon TCG and video game players to win great prizes, as well as Championship Points that will get you closer to an invitation to the 2014 World Championships.
The Spring Regional Championships will take place in seven locations: Sturbridge, MA; Athens, GA; Overland Park, KS; and Seattle, WA, on April 5th, and Salt Lake City, UT, and Madison, WI, on April 12th. And Kitchener, Ontario, Canada will host a Pokémon TCG-only Regional Championship event on April 26th.
Participation in the Spring Regional Championships is open to all players. Arrive early to register because space is limited. Play! Pokémon members, be sure to bring your Player ID when you attend. If you're new to Pokémon competitive play and you don't have a Player ID, you'll receive one for free at the event. Visit the Spring Regional Championships event page for complete information.
Start making your plans now to compete in the Pokémon Spring Regional Championships!
Sources:
http://www.pokemon.com/us/play-pokemon/pokemon-events/pokemon-tournaments/spring-regional-championships/
and
http://www.pokemon.com/us/pokemon-news/prepare-for-the-2014-spring-regional-championships/