Over the past two days, Nintendo has released their earnings reports:
Corporate Management Policy Briefing / Second Quarter Financial Results Briefing for the 75th Fiscal Term Ending March 2015 - Outline & Company President's Presentation
and
Earnings Release: Six Months Ended September 30, 2014
. In the reports, there are some interesting figures for the current generation of Pokémon games on the Nintendo 3DS.
Nintendo announced that global sales of
Pokémon X and Y
have reached 13.3 million. For comparison, the last games of Generation 5
Pokémon Black 2 and White 2
sold a
total of only 7.81 million
. Unfortunately, pre-order sales for
ORAS
are down in Japan compared with
XY
but are on par in North America and ahead in Europe.
Nintendo stated: "While ORAS, being remakes, were never expected to get the kind of sales XY did, the attitude towards our current promotional phase seemingly betrays our expectations in a very positive way. The company thought of an interesting explanation for why it is this way, called the "Ruby/Sapphire Generation Hypothesis (スマブラ・ルビサファ同世代仮説)" factor".
The reason behind the lower pre-order sales can be attributed to one of Japan's key demographics, the 18 to 25 year old's which represents about 30% of the Nintendo 3DS market whereas it only represents 5% of the market in the United States and Europe. Many in this demographic were in elementary school when the games
Pokémon Ruby & Sapphire (ポケットモンスター ルビー&サファイア)
were released. If this key demographic plays a significant role in the sales in Japan due to the nostalgic Ruby/Sapphire Generation Hypothesis will not be known until sales figures are recorded but regardless, ORAS is still on pace to sell millions of copies worldwide.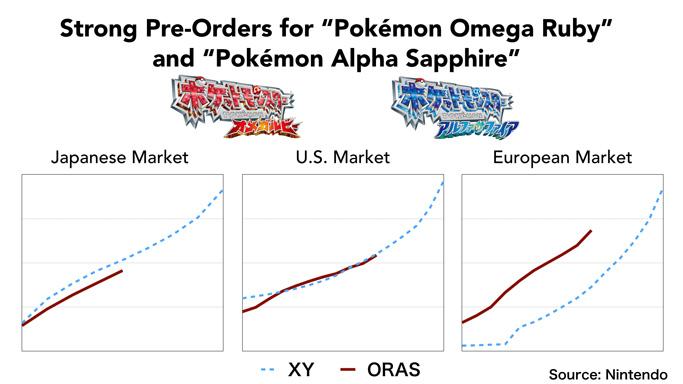 In its report, Nintendo stated: "We expect to expand sales in the year-end sales season with "Pokémon Omega Ruby" and "Pokémon Alpha Sapphire" to be released globally in November, and a number of key titles from third-party publishers."
Sources:
http://www.nintendo.co.jp/ir/pdf/2014/141029e.pdf
,
http://www.nintendo.co.jp/ir/en/library/events/141030summary/index.html
and
http://www.inside-games.jp/article/2014/10/30/82066.html