Pokémon Shuffle Version 1.1.3
is available for players of the game and the patch adds the Mega Lucario Competitive Stage and the Ranking option. The Mega Lucario stage will be available to play between March 16th, 2015 at 6:00 UTC until March 23rd, 2015 at 05:00 UTC.
Details of this event have been added to our Pokémon Shuffle Special Event page
.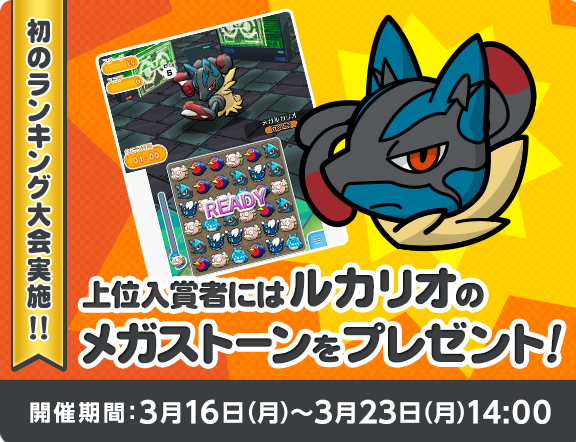 A competitive stage featuring Mega Lucario is available for play and players can attempt it as many times as they want each day. Players are ranked based on their high score and the overall results of this competitive stage will be announced on March 23rd, 2015 at 06:00 UTC. The top 20,000 American players, the top 20,000 European players and the top 50,000 Japanese players will be awarded a Lucarionite, the Mega Stone needed to Mega Evolve Lucario. All players that try this stage will be awarded one Jewel.
Sources:
http://www.pokemonshuffle.com/en-us/connectivity/#lucario-launch
and
http://www.pokemon.co.jp/ex/poketoru/news/post.php/20/