The official Pokémon Shuffle website announced a new event taking place this week for the 3DS version.
Details of this event have been added to our event page
and
information of patch 1.2.13 has also been added to our database page
.
Mega Venusaur
The first Mega Venusaur competitive stage, which debuted in May, was a huge success and it was so popular that it appeared again for this round. The last competition was based on how many points a player could rack up within a minute. For this competition, players competed using a limited number of moves. Players were ranked based on the score that they got on this stage.
The results of this competitive stage will be announced at 06:00 UTC on August 31st, 2015. All those who placed in the top 25,000 in USA, top 16,000 in Europe and the top 65000 in Japan in this competitive stage will be awarded a Venusaurite, the Mega Stone needed to Mega Evolve Venusaur. The top 2,000 USA, 5000 Japanese and 1200 European scorers also receive a valuable Mega Speedup as well.
Note: Players who already received a Venusaurite during the May competition instead received a Jewel as a reward for placing in the top ranks of this competition. This event may be held again at a later date.
With its Mega Effect, Mega Venusaur can clear all of the Pokémon on either side of it, for up to five rows to the left and right! Make a vertical match to clear a huge swath of Pokémon and deal massive damage!
Distribution Dates:
August 24th, 2015 at 6:00 UTC until August 31st, 2015 at 05:00 UTC
Stage Info:
15 Moves.
Source:
http://www.pokemonshuffle.com/en-us/connectivity#megavenusaur
PokéToru Mobile Version 1.0.0(3)
The Android and Apple iOS version of Pokétoru are now available for users in Japan. Version 1.0.0 was released on August 23rd, 2015 for Android and Version 1.0.3 for iOS on August 24th, 2015. Both version are free like the Nintendo 3DS version but saves cannot be transferred between any versions. The Android version is a 43MB download and requires Android 4.1 or higher. The Apple iOS version is 80.6MB and requires iOS 7.0 or later compatible device but is optimized for iPhone 5.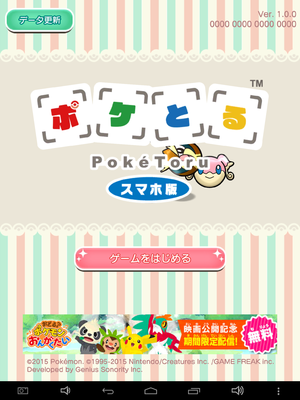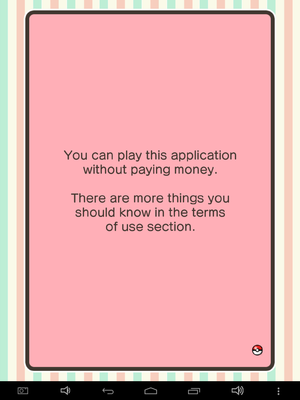 The mobile jewel prices are different than the Nintendo 3DS version of Shuffle and also the number of jewels players get differs.
We have added preliminary prices to our Microtransaction page and will update it when other regions officially launch
.
Download Links
iOS Version:
https://itunes.apple.com/jp/app/pokemon-shuffle-mobile/id1014919815?l=en&mt=8
Android Version:
https://play.google.com/store/apps/details?id=jp.pokemon.poketoru&hl=ja
Nintendo 3DS Version Passwords
To promote the release of the mobile version of Shuffle, a batch of new passwords are available to be used in the Nintendo 3DS version. Below are the codes.
86010010 - 100 Coins
08620009 - 200 Coins
08630007 - 300 Coins
86040006 - 400 Coins
08650005 - 500 Coins
86100002 - 1000 Coins
86001508 - 1 EXP Points * 1.5
08645601 - 1 Mega Speedup
86000504 - Moves +5
08601003 - Time Limit +10
Mobile Version Password
65607110 - Lucarionite