Nintendo has announced that the New Nintendo 3DS XL System inspired by
Pokémon Sun and Pokémon Moon
will also be released in North America on October 28th, 2016.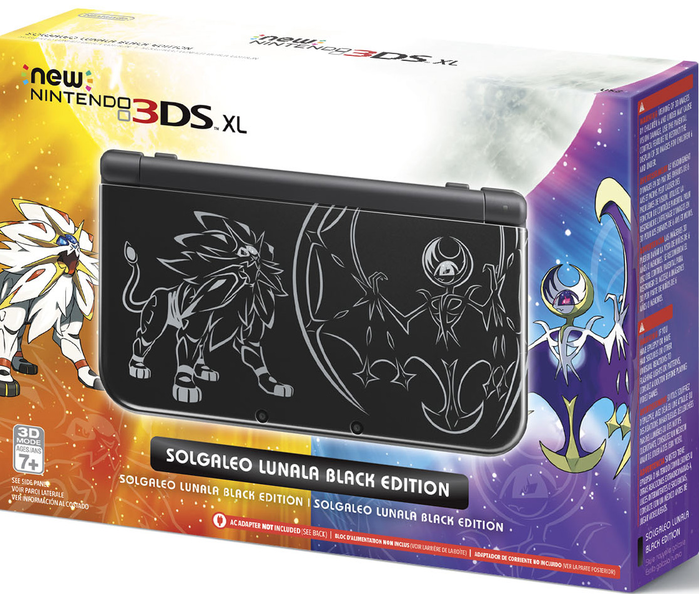 New Nintendo 3DS XL System Inspired by Upcoming Pokémon Games Arrives in Stores Oct. 28
Legendary Pokémon From Pokémon Sun and Pokémon Moon Adorn the Cover
REDMOND, Wash., Sept. 13, 2016 – To prepare for the launches of both the Pokémon Sun and Pokémon Moon games on Nov. 18, fans will be able to purchase a New Nintendo 3DS XL system inspired by the games starting on Oct. 28 at the suggested retail price of $199.99. That's three weeks before the games come out – plenty of time to break the system in before diving into the new Pokémon adventures (sold separately). The limited-edition system sports a slick black color with both of the new Legendary Pokémon, Solgaleo and Lunala, gracing the cover.
"This year marks the 20th anniversary of the beloved Pokémon series and people have never been talking about Pokémon more," said Doug Bowser, Nintendo of America's Senior Vice President of Sales and Marketing. "Playing Pokémon Sun and Pokémon Moon on this new Pokémon system is the best way for fans to show their love for this iconic series."
When the games launch on Nov. 18, fans can also purchase the Pokémon Sun and Pokémon Moon Dual Pack, which includes both games, as well as two codes that will unlock 100 Poké Balls each. The Dual Pack will be available at select retailers at a suggested retail price of $79.99.
Pokémon Sun and Pokémon Moon introduce players to the latest edition of the Pokémon core series. Taking place in the tropical Alola Region composed of numerous islands, the games include many new features to the series, including a new battle system called Battle Royal, powerful new Z-Moves and the ability to ride several different Pokémon with Poké Ride.