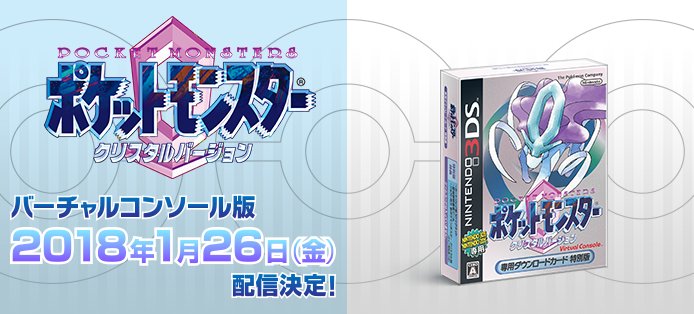 To celebrate the 17th anniversary of the game
Pocket Monsters Crystal Version
, which was first released in Japan on December 14th, 2000, the official Pokémon websites have announced that
Pocket Monsters Crystal Version
will be released on the Nintendo 3DS Virtual Console on January 26th, 2018. A download card will be available to purchase starting on January 8th, 2018 for 1,111 yen plus tax in Japan. Players will be able to transfer Pokémon caught in
Pocket Monsters Crystal Version
to
Pocket Monsters Ultra Sun and Ultra Moon
via
Pokémon Bank
.
Source:
http://www.pokemon.co.jp/ex/VCCR/
Pokémon Crystal Shines on Virtual Console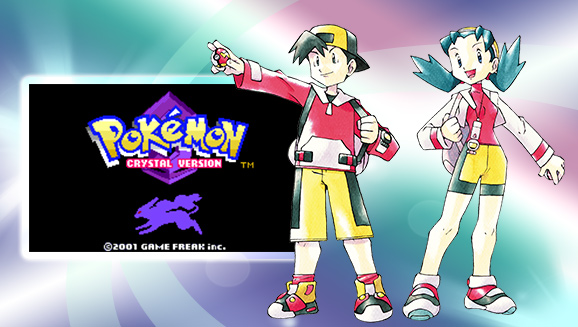 The beloved Pokémon adventure arrives on Nintendo's Virtual Console with modern-day enhancements.
Get ready to relive a classic Pokémon adventure as Pokémon Crystal makes its way to Nintendo eShop for the Nintendo 3DS family of systems on January 26, 2018. This is the definitive edition of the second generation of Pokémon titles (which also includes Pokémon Gold and Pokémon Silver), and fans will now be able to experience this journey through the Johto region with modern enhancements that make the game even better!
Pokémon devotees will certainly want to check out this game to experience the first appearance of innovations that continue to be a part of the series to this day, such as a female hero and a Battle Tower. Pokémon Gold, Pokémon Silver, and Pokémon Crystal also mark the debut of Dark- and Steel-type Pokémon, day/night cycles, and Pokémon Eggs.
As you're exploring, be sure to take advantage of updated features like wireless Pokémon battling and trading. Compatibility with Poké Transporter and Pokémon Bank will be added after the game launches, so it will be easy to get any Legendary Pokémon you catch in Pokémon Crystal into your copies of Pokémon Ultra Sun and Pokémon Ultra Moon.
Be sure to pick up your copy of Pokémon Crystal when it launches on Nintendo's Virtual Console on January 26, 2018!
Source:
https://www.pokemon.com/us/pokemon-news/pokemon-crystal-shines-on-virtual-console/
YouTube Clip - Pokémon Crystal - Announcement Trailer - Nintendo 3DS