Warner Bros. Pictures and Legendary Pictures have announced that they will be running a
Pokémon Detective Pikachu Pop-up
at London's Covent Garden. All workshop tickets have now sold out, but walk-ins can still come to visit the space between 12-8pm on May 3rd, 2019 and May 4th, 2019. The pop-up is located at 9-11 Shorts Gardens, Covent Garden, London, England.
An Imageboard thread has been created with high resolution press release pictures of the pop-up
.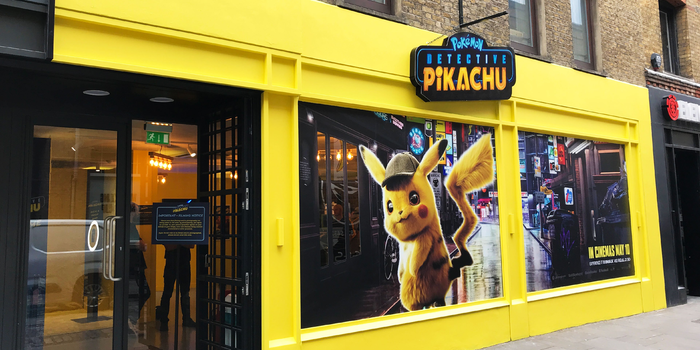 Pokémon Detective Pikachu Pop-up - London's Covent Garden
Warner Bros. Pictures and Legendary Pictures invite audiences to enjoy the sights, sounds, fun and flavours of the POKÉMON DETECTIVE PIKACHU Pop-up.
The pop-up will open its doors in London on the 3rd and 4th May, ahead of the release of the live-action Pokémon film, the comedy adventure "POKÉMON Detective Pikachu," in UK cinemas Friday 10th May.
The ground floor, inspired by world-class private eye Detective Pikachu, offers numerous fun photo opportunities alongside bright yellow walls. As Detective Pikachu loves coffee to recharge and focus his sleuthing skills, fans can enjoy Detective Pikachu-printed coffee and hot chocolate drinks, yellow turmeric lattes or yellow bubble tea or fruit juice at the coffee bar.
The basement space reflects the neon noir style of the movie's fictional Ryme City. Here, visitors can channel their inner Jigglypuff in interactive karaoke booths.
On top of exploring the space, visitors can also book in to nail art stands by WAH Nails for a look inspired by the vibrant colours of the film. If you miss out on tickets there will be a chance for walk ins at the venue.
There will also be workshops taking place at set times including cupcake icing with GBBO's Kim-Joy, recharging yoga with Frame, Mr Mime inspired mime, Psyduck inspired massages. All workshops will be ticketed.
POKEMON DETECTIVE PIKACHU MOVIE POP UP T&Cs
1) Tickets are subject to availability and will be allocated on a first-come, first-served basis via the Booking Website.
(2) Users who successfully claim tickets will need to print off the email with a valid booking number and take it along to the venue on the day of the event
(3) Possession of a ticket only guarantees entry in the specified time slot. Ticket holders will not be able to hold spaces for guests
(4) Unless otherwise stated, a maximum of 2 tickets are redeemable per user. Should a user exceed this maximum, See Film First Ltd reserves the right to revoke tickets without notice.
(5) No cash alternative.
(6) No late admittance.
(7) The venue reserve the right to refuse admission. In the event of a dispute, the event manager's decision is final.
(8) Each workshop has its own specific age restriction. Where this is known at the time of booking, this age restriction is given during the booking process. It is the user's responsibility to confirm this age restriction with the venue.
(9) Tickets are for the use of the user only. Emailing of tickets, distribution of personal login details, passwords, tickets, photocopying and multiple printing of tickets is strictly prohibited. Users found to be in violation of this rule may be barred from using the Booking Website.
(10) Tickets may not under any circumstances be resold for financial or any other material gain.
(11) See Film First Ltd will send transactional communications only by email and or SMS unless you actively opt in to receive invitations, offers and other promotions. Transactional communications relate directly to your actions on the websites or to an event you have booked and not cancelled. Transactional emails include (a) Booking confirmation email, (b) Ballot entry email, (c) Waiting list confirmation, (d) Reminders, (e) Ticket cancellation, (f) Password reset, (g) Feedback request, (h) Event information updates.
(12) Free tickets remain at all times the property of The Promoter
(13) The Promoter reserves the right to revoke or cancel tickets at any time
(14) The Promoter is not liable for any loss or damage arising directly or indirectly (including special, incidental, or consequential loss or damage) from the user's use of the website. For any issues please contact
[email protected]
Promoter: See Film First Ltd, 62-70 Shorts Gardens, London WC2H 9A
POKEMON DETECTIVE PIKACHU MOVIE – POP UP FAQ
- The Pokémon Detective Pikachu Pop-Up takes place on Friday 3rd May and Saturday 4th May.
- The Pop-Up will be near Covent Garden Station, please check your ticket for venue details.
- All workshops are free to attend but require a pre-booked ticket, please visit seeitfirst.com to secure your place.
- You will receive an email code which is valid for a one hour time slot, please turn up 5 minutes before your allocated time as entry cannot be guaranteed outside of the assigned hour.
- Whilst all workshops are ticketed only, there will be a small number of tickets available for the pop up itself on the day. There will be a queue outside the venue, and it will be first come first served.
- The Pokémon Detective Pikachu Pop-Up is suitable for children, but we ask that anyone under sixteen is accompanied by an adult.
- Due to limited space, if you wish to bring a pushchair please inform us in advance:
[email protected]
- The Pop-Up experience takes place over two floors, the ground floor is fully wheelchair accessible, whilst the basement is accessible by stairs only. If you have any access requirements or questions, we are happy to help:
[email protected]
- Please be aware that commercial filming and photography may be taking place over the course of this event and by entering the pop up, you consent to being filmed and photographed.
- Complimentary coffees, bubble tea, juice and water will be available at the event, and non-dairy options will also be on offer.
- Beverage cups are made from sustainable, recyclable materials –guests are also welcome to bring their own re-usable cups.
- Frame Recharge Yoga is suitable for beginners and all fitness levels. Participants will be asked to complete a short health questionnaire, please inform the instructor of any injuries or if you are pregnant. You must be over 16 years old to participate in this workshop.
- My Beauty Squad treatments are carried out at the therapist's discretion, certain conditions will mean that you cannot have certain treatments, it is the therapist's decision whether or not it is safe for you to have the treatment. Please discuss any health issues with your My Beauty Squad therapist ahead of your treatment.
- Cupcake icing will not be able to offer a vegan option.
- Please note there isn't a toilet at the venue
Source:
https://www.warnerbros.co.uk/whats-hot/articles/2019/april/pokemon-tickets