A special Max Raid Battle event is coming to Pokémon Sword and Shield! Starting February 3rd, 2021 at 4 p.m. PST, work together with your fellow Trainers to defeat Cramorant in Max Raid Battles and help unlock rewards that'll help in your adventures!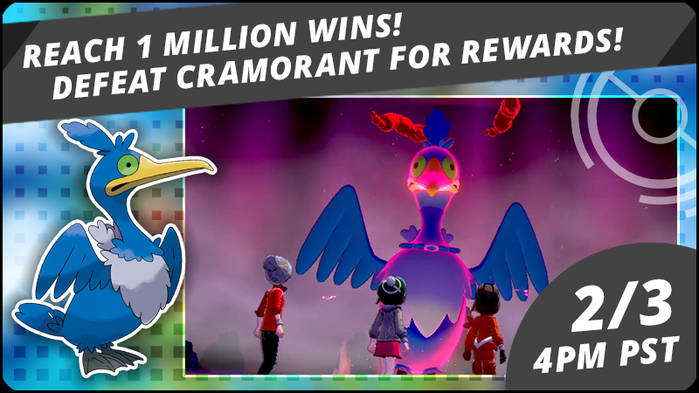 Zarude can play an active role in Pokémon Sword and Shield Max Raid Battles
From Thursday, February 4th, 2021 at 9:00 a.m. JST to Tuesday, February 9th, 2021 at 8:59 a.m. JST, Max Raid Battles in the Nintendo Switch game Pokémon Sword and Shield will feature: Nuoh, Flygon, Goloog, Uu, and Yessan (Female Form), which are all Pokémon that are featured in the hit film Pokémon the Movie: Coco, and they are now more likely to appear.
The Mythical Pokémon Zarude's Jungle Heal move works wonders against the powerful all-out attacks these Pokémon use! A Zarude that knows the move Jungle Heal was distributed via a serial code to everyone who has seen the film Pokémon the Movie Coco at movie theaters nationwide in Japan.
Also, if Trainers work together to win the Max Raid Battle against Uu more than 500,000 times during this period, they will receive useful items for their adventures, such as a Flame Orb, via the Internet starting on Wednesday, February 10th, 2021 at 2:00 p.m.! Furthermore, if Trainers win a total of one million times or more, they will receive additional items for their adventure, such as the Gold Bottle Cap.
Items for winning more than 500,000 times:
・Flame Orb (かえんだま)
・Toxic Orb (どくどくだま)
・Light Ball (でんきだま)
Items for winning more than 1 million times:
・Gold Bottle Cap (きんのおうかん)
・3x Bottle Cap (ぎんのおうかん)
・3x Pearl String (おだんごしんじゅ)
Sources:
https://twitter.com/playpokemon/status/1355049463560032258
and
https://www.pokemon.co.jp/info/2021/01/210129_gm01.html