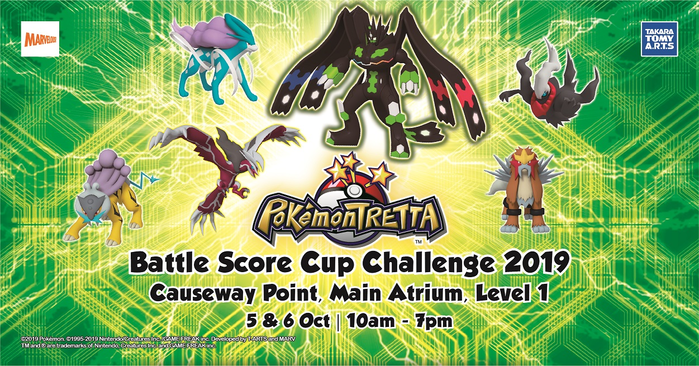 The Pokémon TRETTA Battle Score Cup Challenge 2019, was held on October 5th and 6th, 2019t at Causeway Point. Join us on 5 & 6 Oct at the Pokémon TRETTA Battle Score Cup Challenge at Causeway Point Shopping Mall! Practice Sessions open onsite from 30 Sept – 4 Oct 19.
Dates:
Practice Sessions: 30 Sept – 4 Oct 2019
Challenge: 5 – 6 Oct 2019
Place:
Causeway Point, Main Atrium, Level 1 (1 Woodlands Square, Singapore 738099)
Pokémon TRETTA Battle Score Cup Challenge 2019 Rules & Regulations
How to Participate?
The Pokémon TRETTA Battle Score Cup Challenge has 3 categories for players to participate in, Preschool (6 years and below), Primary School (7 to 12 years old) and Adults (13 years and above). Registration on-site at the event only on a first-come-first-served basis. Strictly no queuing on behalf. Registration starts at 10:00am and closes at 5:30pm or earlier, subject to queue status. Battle starts at 10am sharp and last battle is at 6:00pm.
All players will receive a non-transferable tamper-proof wristband, which serves as your tournament registration and will be placed on their wrist at the point of registration. Wristbands that have been tampered with or stolen are void and the organizer is not responsible for these wristbands. Wristbands cannot be loosened so please be mindful when putting it on.
Players are allowed to retry for a higher score and the higher score will be retained. Subjected to queue and slot availability.
In the spirit of sportsmanship, ALL winners for day 1 can still participate on day 2 but the top 3 winners for the competition. Can only win Prizes ONCE throughout the 2 competition days regardless of category.
The Organiser reserves the right to amend the Pokémon TRETTA Battle Score Cup Challenge registration timing as they deem fit for the safety of the Participants and/or to prevent any potential hazards in the running of the event, at any time without prior notice to the Participant. In such cases, every effort will be made to inform the Participant of such changes. The Organiser shall not be liable for any other loss or inconvenience caused due to such changes.
Battle Rules
All participating players must queue personally to participate in the battle. STRICTLY, no queuing on behalf is allowed.
Each battle will be at S$2 and 1 (One) Pokémon TRETTA Chip will be dispensed from the machine after the challenge. Players should prepare and have their selected 3 Pokémon TRETTA Chips and 2 x S$1 new coin ready before participating in the challenge.
Players are allowed to use their own chips (limited to Ver. 00 to current version chips) and promotional chips. Except chips that are illustrated in the "not allowed" information board. Check with event crew on site if you are unclear.
All Pokémon TRETTA chips that are used in the competition must be placed on the machine throughout the battle, no restarts will be allowed once the battle starts.
NO Replay is allowed if Mega Ring fail to Mega evolve the Pokémon.
Players are to raise their hands after the battle and wait for the event marshal to register their score on the official scorecard. Failure to call for the event marshal to record score will be disqualified; players may choose to queue again to participate in the battle, subject to slot availability.
All scores will be recorded on an official scorecard that will be provided to the participant before they enter the battle area. Score recorded on the scorecard is final, any attempt to tap the high score screens will be disqualified immediately.
Prizes are given to winners who are present only. Prize presentation starts from 6pm sharp, winners not present will be disqualified and the next winner will be promoted to the next rank.
Any form of cheating or breaking of the Pokémon TRETTA Battle Score Cup Challenge rules will be disqualified, The Organiser reserves the right to replace any winners if he/she is found to be disqualified. The organizer's decision is final and no correspondence will be entered into by the organizer in relation to that decision.
Personal data collected from the registration and held by the Organiser will be kept confidential and will only be used, disclosed, stored and processed by the Organiser pursuant to the purposes of which such Registration Data (including the Participant's personal data) are given to the Organiser under these Terms including without limitation the registration and participation in the Pokémon TRETTA Battle Score Cup Challenge 2019 via the registration form.
This event may be recorded and photographed. Your presence at this event is deemed as your consent to being photographed.
Source:
http://world.pokemontretta.com/sg/pokemon-tretta-singapore-battlescorecup-2019/