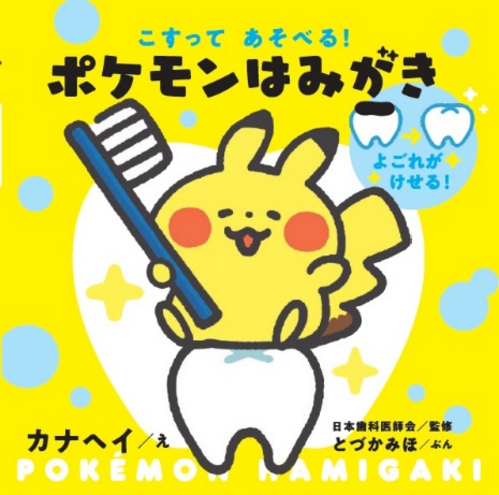 From the popular app Pokémon Smile, which helps children get into the habit of brushing their teeth, comes a mysterious and fun tooth brushing educational picture book.
Metamo Color Rubbing and playing! Pokémon Brushing Teeth (メタモカラー こすってあそべる! ポケモンはみがき)
, features a material that changes color with temperature and was used for this picture book.
The secret is that body temperature and frictional heat of touching and rubbing the pages can be used to erase the actual stains on the teeth in the picture, making the reader want to try again and again. In addition, cute Pokémon drawn by popular illustrator Kanahei will cheer you on and praise your work, saying, "You did well!" The content of the book is supervised by the Japan Dental Association, so parents and children can enjoy it with peace of mind.
Comments from a representative of Pilot Ink:
"We hope that children will experience the fun of Metamo Color changing and that this picture book will encourage them to create a habit that brushing their teeth is fun!"
Book Information:
Sales date:
November 8, 2021 (Good Tooth Day!)
List price:
990 yen (10% tax included)
ISBN:
978-4-09-735341-6
Supervisor:
Japan Dental Association
Text:
Miho Tozuka (とづかみほ)
Pictures:
Kanahei (カナヘイ)
Sources:
https://www.shogakukan.co.jp/books/09735341
Pokémon Smile - Version 1.1.0
The Pokémon Smile app has also received its first update and it adds a few additional Pokémon and Pokémon Caps.
Pokémon Smile - Version 1.1.0 Patch Notes
Additional Pokémon and Pokémon Caps added.
The "Brushing Session Length" and "Take In-Game Pictures" options in the "Brushing Settings" menu can now be set separately for each user on a device.
Bug fixes.
Sources:
https://play.google.com/store/apps/details?id=jp.pokemon.pokemonsmile
and
https://apps.apple.com/us/app/id1512331079